Description
Waterproof Solar Powered 4LED Light Red Lily Flower Garden Lawn Lamp Yard Decor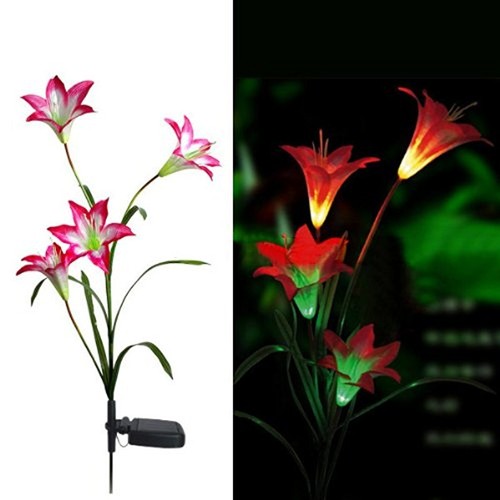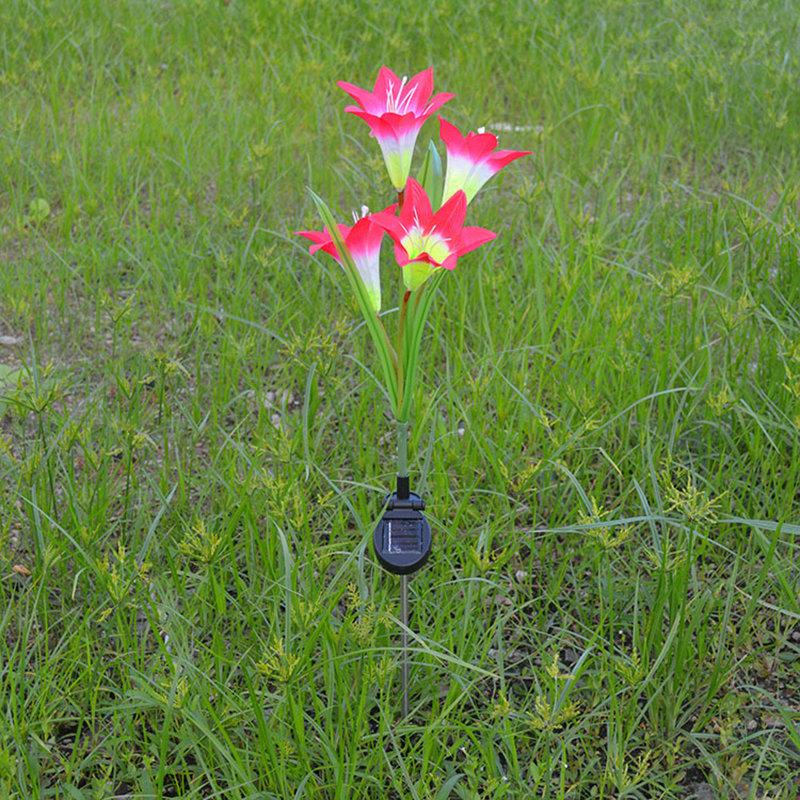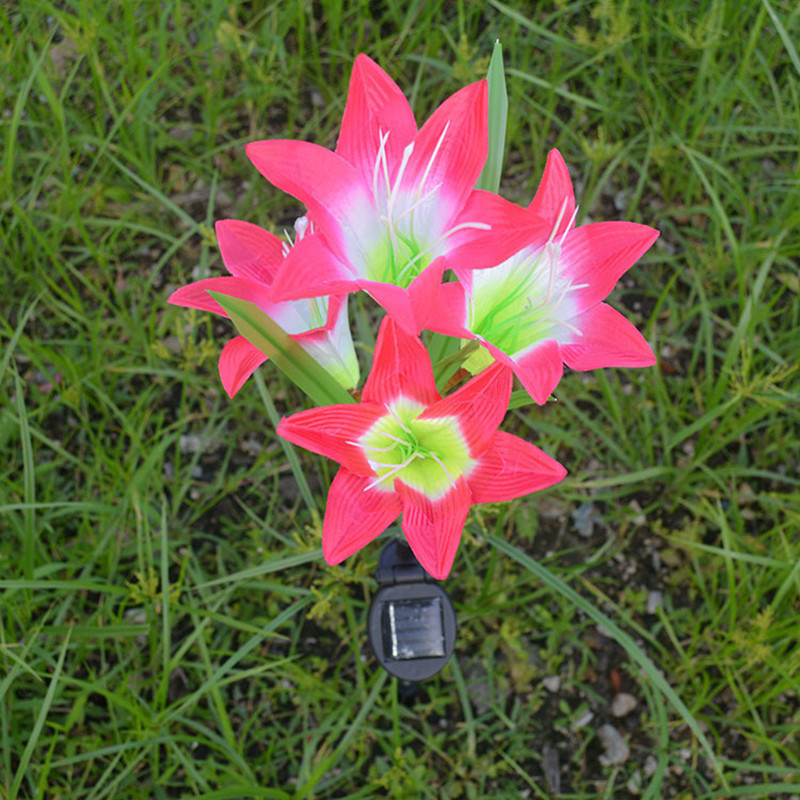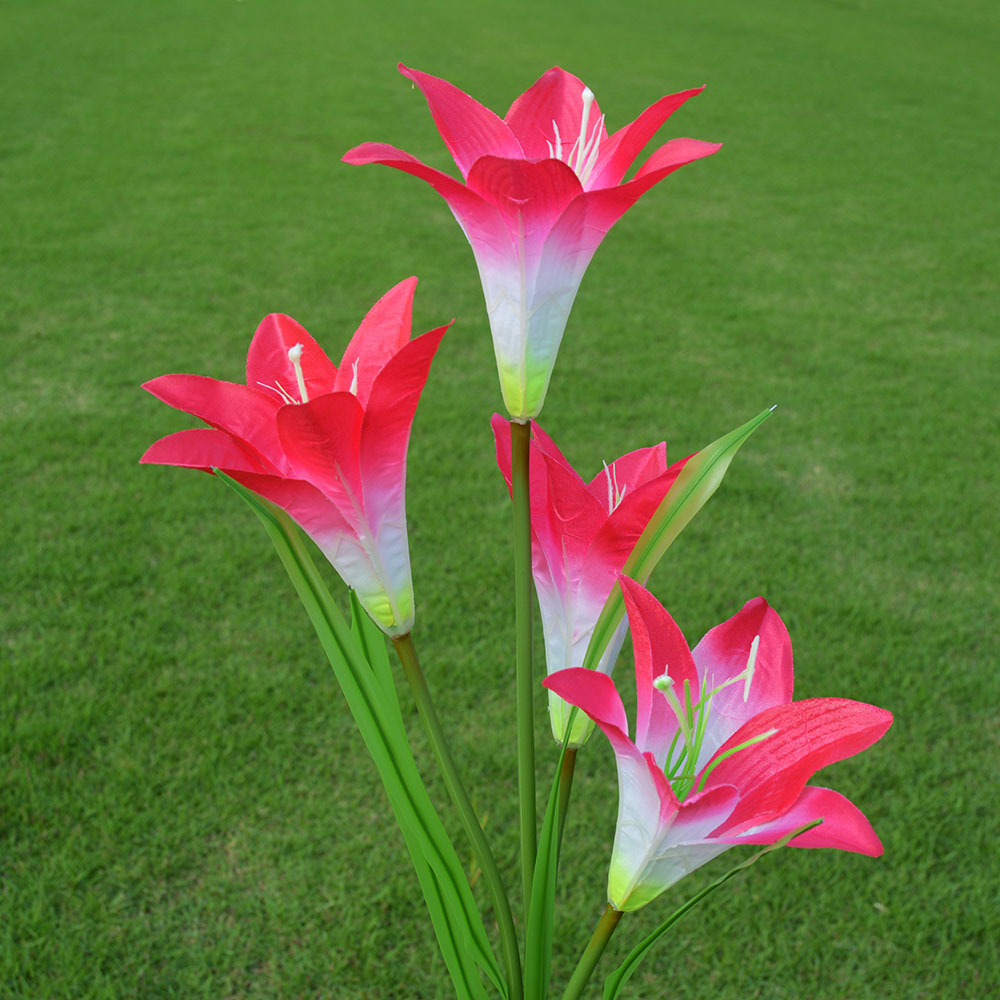 Description:
Description:
The White Color Lily flower transforms any backyard into a festive party destination. This solar-powered- battery-operated decorative light easily sticks into the ground to provide hours of outdoor illumination. The light is powered by a solar-charged 'AA' NiCd battery (included)- making outdoor light sockets and power cords unnecessary. Just plant the light fixture and turn it on for up to eight hours of vibrant illumination. Colorful Illumination Any Time of Year.The lighted globe is designed with ABS material. Along with its strong construction. The colors rotate through the spectrum- setting a festive mood for every event. The LED is designed to last for 100-000 hours of use- which ensures you'll call it a night before your garden sun solar Lilies Flower light does. With its full spectrum of colors and long-life- solar-powered battery- the Lilies Solar Light will illuminate your parties.
How solar power fixture work:
During the day- the solar panel collects sunlight and converts is into electrical power- which is stored in the included rechargeable battery.
At night- light sensing technology turns on the solar fixture.
Features:
100% Brand New & High Quality.
Beautiful artificial flower lamp.
Installs anywhere that gets direct sunlight.
Lily flower solar powered garden/yard stake white color light- have sedimen stem will light up.
Ideal for decorate your garden- balcony- lawn etc.
Light turns on automatically when dark with manual on/off switch.
Ideal for use where conventional electrial supply is unavailable.
Specifications:
Solar Panel: Polycrystal Solar Panel.(2V/70mA)
Battery: 1pc 1.2V/600mAH Ni-MH battery
Material: ABS- Stainless Steel Stem.
Weight: 206g
Color: Red
Package Included:
1 x LED Solar Flower Light
1. We accept PayPal only.
2. All major credit cards are accepted through secure payment processor PayPal.
3. Payment must be received within 7 business days of auction closing.
1. We will delivery out at the handing time when we receive the payment.
2. The delivery time is 3-5 business days to US(7-12 business days to Canada) by usually time.The parcel maybe delay 1-2day of the weekend.Due to the bad weather,Holidays,Hot Season ect.the parcel maybe delay,If you have any problems,mssage us,we will try our best to solve it.
3. We ship to your eBay address. Please make sure your eBay address is correct before you pay.
4. If you want to change the shipping address,message us before our send out.
1. If you donot receive the items at the delivery time,the parcel has broken/missing,Please message us before you open case/return,we will try our best to solve it.
2. We offer a 30 day return policy from checkout winning date.
3. An RMA number is required for all returns. Message us for return instructions. Items Returned without a RMA number will not be processed.
4. Items defective upon receipt must be packaged in their retail packaging as if new and returned with a detailed description of the problem.
5. Return shipping fees are not refundable.
We reserve the right to decline any returns if the above guidelines are not followed.
If you are not satisfied with the item for any reason, please do not quick to leave negative/neutral feedback even open request and case without any communication with us. We devote ourselves making EVERY CUSTOMER in 100% Satisfactory and resolve any problem. Thank you for your understanding and recognition,we are always leave positive feedback to all our customers.
Reply:
All replies will be sent to your email box, if you do not get response within 24 hours (Sat. & Sun. excluded) please check your eBay My Messages in case that our emails will be filtered automatically by your settings.
.template_root {
font-size: 12px;
/*margin: 0px auto;*/
padding: 0px auto;
text-align: center;
float: left;
width: 100%;
height: auto;
min-height: 820px;
overflow: hidden;
}
.all_area {
font-family: Geneva, Arial, Helvetica, sans-serif;
font-size: 12px;
margin: 0 auto;
width: 950px;
}
.title_area {
height: 145px;
width: 100%;
margin: 0 auto;
}
.title_area_left {
width: 133px;
height: 145px;
float: left;
}
.title_area_center {
font-size: 20px;
float: left;
margin: 30px 0 0 0px;
color: #000;
width: 80%;
text-align: left;
line-height: 25px;
}
.title_area_right {
height: 145px;
width: 100%;
}
.picture_area {
width: 100%;
margin: 0 auto;
float: left;
overflow: hidden;
}
.decription_title {
float: left;
font-size: 20px;
color: #ff9900;
line-height: 30px;
padding-left: 10px;
}
.decription_content {
text-align: left;
font-size: 12px;
color: #000;
line-height: 21px;
float: left;
display: inline;
width: 98%;
padding-bottom: 20px;
padding-left: 10px;
}
.decription_area {
width: 80%;
margin: 0 auto;
float: left;
overflow: hidden;
}
.tab_area {
/*min-width: 400px;
max-width: 500px;*/
width: 80%;
padding: 50px;
float: left;
overflow: hidden;
margin: 0 auto;
background: #fff;
}
.tab_section {
display: none;
padding: 18px 0 0;
border-top: 1px solid #ddd;
text-align: left;
font-size: 16px;
}
.tab_input {
display: none;
}
.tab_label {
display: inline-block;
/*margin: 0 0 -1px;
padding: 15px 25px;*/
line-height: 38px;
padding: 0;
margin: 0 auto;
width: 24%;
font-weight: auto;
text-align: center;
font-size: 20px;
color: #FFFFFF;
border: 1px solid transparent;
background: #B22222;
}
.tab_label:hover {
color: #FFFFFF;
cursor: pointer;
}
.tab_input:checked+label {
color: #000000;
border: 1px solid #ddd;
border-top: 2px solid ornage;
border-bottom: 1px solid #fff;
}
#tab_1:checked~#ct1,
#tab_2:checked~#ct2,
#tab_3:checked~#ct3,
#tab_4:checked~#ct4 {
display: block;
}
.big_img {
display: none;
max-width: 640px;
max-height: 320px;
width: auto;
height: auto;
margin: 0 auto;
}
.image-input {
display: none;
margin: 0 auto;
}
.image-label {
border: 1px solid #ddd;
float: left;
opacity: 1;
display: block;
}
.image-input~img {
display: none;
}
.image-input:checked+img {
display: block;
}
/*
@media screen and (max-width: 650px) {
label {
font-size: 0;
}
label:before {
margin: 0;
font-size: 18px;
}
}
@media screen and (max-width: 400px) {
label {
padding: 15px;
}
}*/
---
On Feb-28-18 at 05:42:07 PST, seller added the following information:
.dc_tracker_img{display:none;}.dc_tracker_img:last-of-type{display:block;}p:empty+hr{display:none;}hr+span.ebay{display:none;}